Overview
At Minted, we strive to understand your business while also looking at your competition. We believe that digital marketing should be driven by business goals and focused on the target audience. We use innovative approach by introducing new techniques and working practices to create more improved results. We will assess your online footprint, thus allowing us to give you an effective digital marketing strategy advice that will have the impact you are seeking. Our in-house digital marketing experts and cutting-edge technology work together to increase your company's brand awareness. We will help you discover and reach your target market online and most importantly, drive customers into your store. Our goal is to help you succeed because your success is our success too!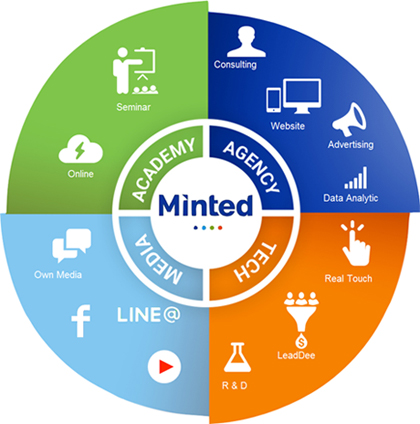 Grow your business with our digital strategy and solutions.
At Minted, we provide a full range of digital marketing solutions including digital marketing knowledge, digital marketing academy, digital tools & technology, and digital strategy & execution.